The above group shot was taken by the uber talented photographer, Sean. You can view more of his photos from the Flag Day rally
HERE
.
The Amazing Neocon has posted his photographic marvels from the rally
HERE.
I finally posted my photos to

Flickr
It is safe to say that the Chester County Victory Movement Flag Day celebration was an phenomenal success! We welcomed into our midst patriots who travelled from New Jersey, New York, Baltimore, Virginia and Orlando, Florida to participate in our celebration.
I want to send special thanks to my blogging buddies TSO and Jonn Lilyea who took time from their busy schedule to join me in celebrating Flag Day.
Jonn has already posted his thoughts of the day, including photos and a video. You can read all about it HERE
Thus Spake Ortner has crafted his a humorous version of the day's events HERE
Wayne Lutz from Warriors Watch posted a review of the day HERE . Lutz, it was a such a pleasure to see you again! Yes, your marriage proposal is still under consideration.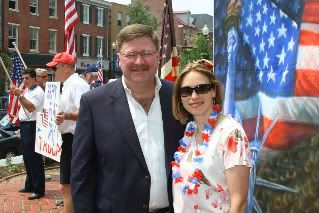 Special Thanks to
Curt Schroder
for his recognition of the work of the Chester County Victory Movement. Thank You
Craig Williams
and
Chet Beiler
for your words of support at our post rally party.
Men in Kilts: Irish Thunder made such an impression on the sidewalk of the Courthouse! Thanks for your remarkable contribution to this rally!
The Chester County Victory Movement was honored by the presence of the Knights of Columbus Color Corps. Thank you for your support of our rally!
My dear friends from the Gathering of Eagles - You will always be welcome on our corner.
Thanks can also be given to the Director of the 'peace' movement for the 'it's all about me' newsletter - thanks for your efforts in recruiting new readers.
Scenes from the Flag Day Rally: